Sidebar
Custom Embossed Copper Mugs from Paykoc
The art of embossed metal work has been around for thousands of years. The ancient Egyptians for example, were creating stunning embossed copper, bronze and gold pieces 3,500 years ago. When Howard Carter opened Tutankhamen's tombs in 1922 embossed gold plates were among the countless treasures he uncovered. Metal workers of the Persian Empire created some of the most evocative and sophisticated embossed copper artifacts ever created. And today, custom embossed copper mugs from Paykoc Imports fit right into the ongoing progression of the art of embossed copper.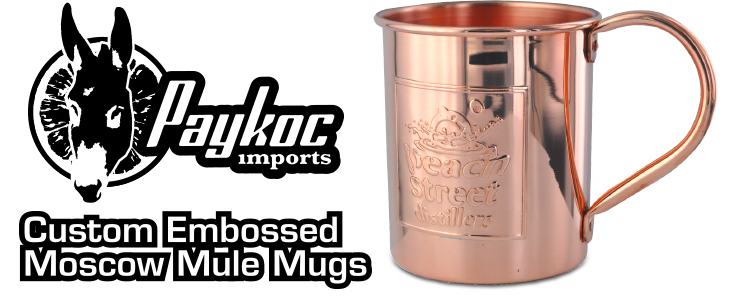 Embossing: A Brief History
The techniques involved in embossing date back to the earliest days of recorded history. They were some of the first employed by artisans to produce purely aesthetic creations like jewelry. Historically gold and silver have been used for that type of personal object while copper, bronze - and to a lesser degree tin - were used for larger bas reliefs and sculptures. By the time of the pharaohs mass production (albeit on a limited scale appropriate for the time) was already fairly common with patterned punches being used to produce items that would have otherwise required a lot of repetitive hand working.
Fast forward to the 19th century when book covers were often made from embossed copper or bronze. While today, there are few honors that are considered more significant than an embossed Olympic medal, be it gold, silver or bronze.
The Evocative Beauty of Embossed Copper Mugs
Embossed metal work - like our custom embossed copper mugs - has an appeal that is both undeniable and difficult to quantify and casts a spell on everyone from culture vultures to Moscow Mule aficionados. Our embossed copper mugs provide an air of authenticity and timelessness that is sure to add a bit of gravitas to the indoor kitchen, outdoor kitchen, holiday get togethers, product launches or home bar of the recipients. Our embossed Moscow Mule mugs will:
Leave a lasting impression - You can request us to emboss any type of image, text, logo or other graphic onto your Moscow Mule mugs and we'll deliver a high quality finished product that will impress even the most hard-bitten convention goer who thought they had seen everything when it came to promotional items.
Provide an authentic experience - In a world where the virtual is replacing the genuine at an ever increasing rate a custom embossed Moscow Mule mug from Paykoc is a reminder of the immense value of the authentic tactile experience. They're the kind of giveaway that elicits smiles and quiet nods of approval.
Provide long-term value - "Value" is another idea that seems to be under assault these days. The word has multiple meanings including the amount of goods and services rendered, the desirability of a thing and/or the exact meaning of something. But in this case the value of your custom copper Moscow Mule mugs is a matter of how highly they are regarded over a long period of time. Unlike things like extended warranties that we often regret buying almost as soon as we spend the money, beautiful custom embossed copper mugs will retain their aesthetic, practical and monetary value for the people that receive them over the long term.
Provide years of fun - The great thing about this type of custom embossed Moscow Mule mugs is that they are much more than a 1 trick pony. They can be used for everything from lemonade to sundaes to mint juleps and they often spur folks into investigating the dozens of variations on the Mule that helps them liven up their future parties and get togethers. In other words they're the gift that keeps on giving.
Ratchet up your marketing efforts - Few things will provide greater value from a marketing perspective than giving away a number of embossed copper mugs branded with your company info and logo. Attract attention to your booth at the next convention, offer them as an add-on when people purchase certain products or services or just give them away as part of a promotional lottery. Wherever they wind up they'll do your brand/product/service proud for years to come.
Make the perfect company gift - Custom embossed Moscow Mule mugs also make an impressive gift that will win you points from employees or customers for your thoughtfulness and taste and add years of enjoyment and value to the life of the recipient. It doesn't matter if the recipient has ever heard of the Moscow Mule because a custom embossed copper mug has value that goes far beyond its ability to serve up cool, refreshing cocktails in style.
More Than Just a Cocktail Glass
The custom embossed copper mug from Paykoc is more than just a vessel for the world's most versatile cocktail. It's a work of art with thousands of years of history, a promotional item beyond compare, an aesthetic asset to anyone's kitchen or bar, a conversation piece at parties for years to come and an investment in a real, tangible item that isn't going to lose its value as soon as you pay for it.
The process of securing high quality custom embossed copper mugs from Paykoc is easier than you think. Simply choose the size and quantity you need, select the type of embossing you'd like (direct emboss or embossed plate), submit your artwork to us and provide a modest deposit. That's it. Your custom embossed copper mugs will be ready for your next company event, product launch or party.