Sidebar
Custom Engraved Glassware from Paykoc
Whether you are a homeowner looking to add some personality to your new home bar or a restaurateur in search of ways to augment and enhance your branding efforts, or you just want to buy a gift for that whiskey connoisseur on your holiday gift list, custom engraved glassware from Paykoc Imports is the way to go. Engraved glassware is a subtle and effective method for adding a bit of panache to your wine bar, tavern or restaurant while providing an affordable way to reinforce the brand. Paykoc can help guide you through the decision making process so that the engraved glassware you wind up with is the perfect match for your home or business or the perfect gift for that special someone.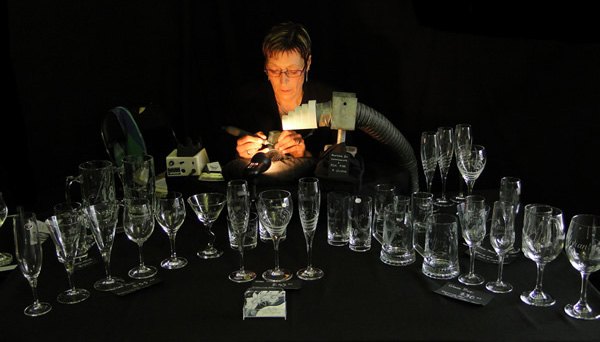 The Many Faces of Engraved Glassware
Custom engraved glasses are as versatile a product as you'll find.
Personalized custom engraved glassware items can provide wedding guests with timeless memorabilia of a special day. They can also provide the perfect holiday gift for family, friends and loved ones. They can be used to mark other types of special occasions such as graduations, promotions, engagements and birthdays. Along with the birth of a child, the purchase of a new home or retirement.
From a business standpoint they can help reinforce the image of your restaurant or tavern, they can be used as giveaways during conventions or sales conferences and they can be used as gifts for valued employees. With an array of different glassware products to choose from and some of the most skilled laser engravers either side of the Rockies, Paykoc is the best choice when it comes to producing custom engraved glassware for all occasions and in any quantity you need.
How is Laser Engraved Glassware Made?
To understand the process of laser engraving glassware you first need to have some idea how that glassware is made. At the most fundamental level glass is created by heating silicon (otherwise known as sand) to 1,700-2,000 degrees Fahrenheit. At that point it transforms into a thick, viscous, but transparent liquid that can then be either poured into a mold or gathered up in quantity by a glass blower and transformed by hand into a vase, plate, bowl or glass. When the liquid silicon cools it retains its transparency. If the manufacturer or glass blower wishes to added color or other effects they can add dyes or other elements at various points during the process to achieve their desired result. That might include adding various metals such as lead, cobalt or even gold to the molten silicon to achieve breathtaking effects.
Once the glass is finished it's ready to be sold. Or, if the customer wishes, we can take any of our shot glasses, glass bottles, and tumblers, wine glasses, pilsner glasses, flared pint glasses or heavy duty glass beer steins and engrave them with their choice of text and/or graphics. This is done by way of a laser engraver. Etching glass with our state-of-the-art lasers is a non-contact process that doesn't require the shot glass or wine glass or beer mug be clamped down or otherwise restrained in a way that might damage it. The laser engraving process itself does not damage the glass in any way or produce flaws or weaken the integrity of the engraved glass.
Perfection on a Microscopic Level
When a glass is etched with a laser the surface itself is only affected in the most superficial of ways and the resulting matte finish is similar to a "satin" finish you see on brass, bronze and aluminum. It's a soft effect that contrasts with the clear, luminous surface of the rest of the glass. As the laser beam contacts the surface of the glass - regardless of what type of glass it is - it heats up the components of the glass including any metal that may have been added to buttress its integrity or create tinting or other effects.
None of these structural elements will react negatively to the laser, since the amount of heat it is bringing to bear is minimal. The air and moisture trapped in the glass however, does react to the laser. Those molecules expand ever so slightly and create almost imperceptible, microscopic effects on the surface of the glass. These effects when viewed as a whole create the characteristic satin or matte finish everyone loves to see on engraved shot glasses, wine glasses, beer mugs and more.
Custom Engraved Glassware from Paykoc
Engraved glassware from Paykoc is a great way to impress customers, guests, friends and family. Personalized glassware makes the ideal gift for practically any occasion. And engraved glassware for restaurants, taverns, ski lodges, gift shops or dozens of other businesses is a cost-effective way to enhance branding efforts while simultaneously enhancing the atmosphere of your establishment.
Peerless Glassware Engraving Services from Paykoc
Our laser engraved glassware stands head and shoulders above the competition because our entire enterprise is focused on providing the kind of high-quality hand-crafted items you can't find anywhere else. This commitment to craftsmanship, including engraving, is not a secondary concern for us. It's in our blood and embodied in every single item we sell either online or through our Denver retail center. From astonishing Nimet Porcelain to stunning handcrafted Turkish mosaic lamps and hand-carved meerschaum pipes Paykoc goes above and beyond in our commitment to quality. Our custom engraved glassware is yet one more example of this unwavering commitment.