Sidebar
Modern and Contemporary Turkish Ceramic Masters
We spend a lot of time on our blog talking about the beauty and importance of Turkish ceramics and handicrafts. What we haven't done up to this point is spent much time talking about specific Turkish masters of the form; the people who came up through the tradition and managed to expand its vocabulary and scope. If these individuals had not shown the way when it came to the value of the individual voice in creating timeless, one-of-a-kind objects the entire Turkish ceramic industry may have devolved into kitsch. Instead, today it is a shining beacon for those the world over who understand and appreciate human expression in all its forms.
A Trio of Masters
Without further ado we present short bios on three Turkish master ceramicists and encourage you to look further into their stunning work.
Füreya Koral
Füreya Koral (1910 – 1997) - pictured above - is considered a leading figure in 20th century Turkish ceramics for a number of reasons. First, she was a singular voice for women in a craft that had been dominated by men for nearly a thousand years. As such she was a seminal influence on aspiring women potters including Nimet Varli (who we'll get to shortly). Füreya was also one of the first ceramicists in Turkey to infuse the traditional iconography of the region with Western influences.
Füreya's work is known for its ability to draw the viewer in. Even something as seemingly mundane as Turkish plates or Turkish bowls take on expressive intensity due to the nature of the abstract iconography, which often resembles a type of Rorschach blotch into which the viewer can invest their own feelings and imagination. Her pottery items are equally intense, bold and assertive without being overly aggressive.
During her lifetime Füreya exhibited her work widely. The Salon D'October in Paris, the Napstkovo Muzeum in Prague, The Museum of Modern Art in Mexico City and the Smithsonian in Washington D.C. all exhibited her work and she was just as widely respected and admired in her home country of Turkey where she mounted numerous exhibitions during her lifetime.
Galip Körükçü
This ceramic master learned the craft from his father who was an established potter renowned for his quality work. Galip augmented what he learned at home with extensive artistic studies in Nevşehir and Ankara. When he ultimately returned to the family home in the Cappadocia region he quickly incorporated much of his art training into both the forms and iconography of his own ceramic output.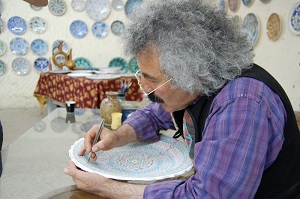 Galip is credited with enhancing the international reputation of Turkish pottery by exhibiting widely both at home and abroad. His ceramic creations exude the confidence of the master's hand and the tasteful subtleties of the best abstract art. His work is never derivative but recognizes the influence of Western concepts and artistic movements. His traditional work is a tour de force of historical influences which never attempts to subvert traditional forms for his own aggrandizement.
Galip continues to find new ways to extend the Turkish ceramic tradition. His work today ranges from the overtly contemporary to the traditional and the strength and breadth of the iconography employed separates him from most, if not all, of his contemporaries. His three daughters have now joined him in the workshop where they represent the 6th generation and future of the Körükçü family pottery business.
Nimet Varli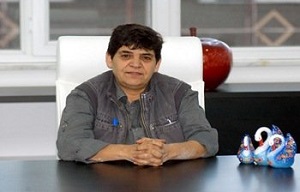 Nimet Varli is perhaps the most important ceramacist/potter working in Turkey today. Taking her lead at least in part from the pioneering work of Füreya Koral and acknowledging the debt she owes to artists like Galip Körükçü she has shown the way for the entire industry with her fair trade workshop, all female staff and the uncompromising quality of her work.
Like the 2 artists noted above Nimet has continually sought new ways to extend the voice of the Turkish ceramic tradition. Her breathtaking porcelain creations have found favor the world over and she herself has been recognized as Turkey's Artist of the Year for 2002. We at Paykoc are humbled and proud to be able to present the work of this singular artisan to our customers and hope you will take the time to browse through our extensive collection of Nimet Pottery.