Sidebar
The Moscow Mule with Rum: How the Jamaican Mule was Born and Bonus Recipe Making Moscow Mule With Gin
The famous "Moscow Mule" was the brainchild of Los Angeles tavern owner Jack Martin who, in 1941, was looking for a way to make his large stock of vodka palatable to American tastebuds. Within a few years the "Mule" had spread from coast to coast and internationally as well, spawning innumerable variations including what became known as the Moscow Mule with rum or Jamaican Mule.
The Jamaican variant of the Moscow Mule uses the same basic ingredients and is presented (when possible) in the traditional copper cup made famous by Martin. The difference is that the Jamaican has a heart of sweet Jamaican rum where the Moscow is anchored by vodka.
A Short History of Jamaican Rum
The Jamaican rum used today in drinks like the Moscow Mule with rum has a long and colorful history that can trace its roots back to sugar-based spirits of a thousand years ago. The distillation of what would become known to us as rum first took place in the late 16th or early 17th century on Caribbean sugar plantations when it was discovered that molasses could be fermented into alcohol. Distillation of the resulting alcohol products created the first rum spirits known in some parts as "Rumbullion", whose popularity spread quickly by sea trade.
Rum Grades
Today there are a variety of grades used to classify and describe different types of rum with the terminology varying depending on the location. Some well known grades of rum include:
Flavored Rum - Flavored rums are occasionally enjoyed neat but more often blended with a variety of fruits including banana, orange, starfruit, citrus and even coconut to create those fancy, tropical drinks so sought after by tourists.
Light Rum - Light rum is sometimes referred to as "white" rum and has little innate flavor. Most light rums are products of Puerto Rico and are a popular ingredient in mixed drinks where they remain anonymous while providing the kick.
Dark Rum - Dark rums are commonly referred to by their color tone ie; brown, red or black. Dark rums are usually sourced from molasses or caramelized sugar and undergo a lengthy aging process that results in a stronger, spicier flavor than other types of rum.
Spiced Rum - Spiced rums achieve their extra flavor through the addition of various spices. Caramel is also sometimes used to add a robust character to the flavor. Popular flavors of spiced rum include pepper and cinnamon.
Overproof Rum - Overproof rum, as the name implies, contain much more than the standard 40% alcohol. Perhaps the most famous of the overproof rums is Bacardi's "151", which, at 151 proof is among the strongest distilled spirits you can buy.
Top Brands of Jamaican Rum
Jamaican rum has been increasing in popularity in recent years and many attribute this to its natural sweetness; a quality which can be linked back to it being sourced from molasses. Some of the best known brands of Jamaican rum include:
Wray and Nephew Overproof Rum - W&N Overproof is among the best selling rums in the world. Its crystal clear quality makes it stand out from the crowd and it's a popular choice for many mixed drinks.
Appleton Rum - Appleton rum is one of the more expensive brands of Jamaican rum. A finely balanced product it's a favorite among connoisseurs and one you're sure to find in upscale bars and restaurants everywhere.
Mount Gay Rum - Mount Gay has the distinction of being the longest continually produced brand of rum on planet earth. The Mount Gay distillery produces a half dozen grades of rum that are exported to more than 60 countries worldwide.
Myers Rum - Myers is an extremely popular brand renowned for its consistent quality and clean, sweet taste. Today they distill their rum in white oak barrels just as they did in 1879.
Coruba - Coruba rum is characterized by its dark brown color and bold taste. It's seldom drank straight up but is a favorite ingredient in a variety of popular cocktails.
Best Rums to use in a Jamaican Mule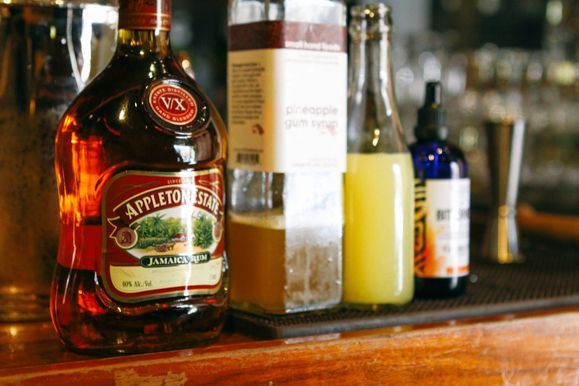 While all of the above listed rums are quality spirits they do not all necessarily embody the qualities that make for a first-class Moscow Mule with rum. However, several do and here we present our choices for the best rums to use when making a Moscow Mule with rum.
Appleton Estate Rum - Appleton Estate rum is exceptionally smooth with a beautiful golden hue and just the right degree of sweetness to make your Mule the highlight of the barbeque.
Myers's Rum - Myers rum is famous for its mixability. It delivers a balance of sweetness and spice that will have your friends licking their lips and nodding their heads in approval.
Coruba Dark Rum - The sweet, mellow flavor of this rum complements the Mule's other ingredients, never getting in the way or diminishing the overall experience.
Making the Perfect Moscow Mule with Rum: Ingredients and Recipe
Now that we've set the stage let's get to the heart of the matter, shall we? Here is our favorite way of making the venerable Moscow Mule with rum starting, of course, with the right ingredients.
Ingredients
2 oz of any of the above listed "best rums"
Juice of a single fresh lime
Chilled ginger beer
Lime wedge
Mint sprigs
Ice cubes
Recipe:
Add the rum to your copper cup
Add ice cubes
Add lime juice
Top up with ginger beer
Crush mint sprigs and add
Garnish with lime wedge
Enjoy
Another popular variation on the Jamaican Mule is one where an ounce of falernum sweet syrup is added to enhance the natural sweetness of the rum.
The exact proportion of ingredients will no doubt change as you adjust to individual tastes. No matter how you tweak the Moscow Mule with rum though, you're in for a cocktail delight that will have everyone asking for the recipe and where you got those amazing copper cups! Want to always remember this recipe? Why not get the recipe engraved on one of our mugs.
Own a bar or restaurant and want to use the Jamaican Mule recipe? Sign up for our wholesale program and we can get you discount glassware or Copper Mugs for a great bulk deal.
MAKING A MOSCOW MULE WITH GIN: MADNESS OR A GREAT IDEA?
The Moscow Mule has made a comeback in a huge way. There's no doubt about it: Across the bars and house parties of America, this vintage cocktail, once the drink of choice for everyone from Hollywood celebs to urban socialites, is experiencing a massive surge in popularity. One side effect of the rediscovery of this classic favorite is the many variations on the classic ginger beer, vodka, lime juice recipe surfacing everywhere from foodie blogs to lifestyle magazines, with mixologists and local bartenders each serving up their own, personalized version such as the Kentucky Mule, which swaps out vodka for bourbon, or a Moscow Mule with gin.
The great thing about this wild experimentation? There's sure to be a Moscow Mule out there to satisfy just about everyone's tastes. But these variations also pose the question of how far a recipe should stray from its origins. To answer that, let's take a look at the history and current drink-age of this vastly popular cocktail.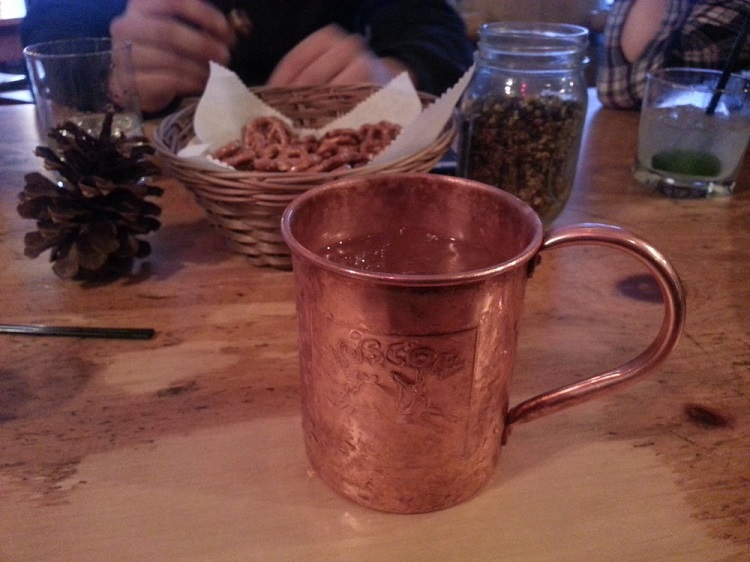 The History of the Moscow Mule
At the time of the Moscow Mule's inception, vodka was off the map in American society. In fact, it was widely scorned as being entirely inferior to other spirits like scotch and gin.
When businessman John G. Martin found that he couldn't sell Smirnoff in America, he teamed up with the owner of the bar Cock 'n' Bull, Jack Morgan, who could not entice customers to drink ginger beer, and another businessman who was finding it impossible to move copper mugs.
Sound familiar? (we discussed this history in more depth in this post)
The three businessmen combined forces to create and market a delicious cocktail that encompassed all three heretofore-unpopular ingredients, simultaneously saving their investments and serving up a tasty drink that the American public went crazy for. In the 1950s, the Moscow Mule was a standard cocktail for everyone who was anyone, and vodka itself became the most popular spirit in the States. While the cocktail fell out of style in the late 20th century, its popularity has once again soared with drinkers everywhere in the past few years, breathing new life into this vintage beverage.
So, What About Gin?
The Moscow Mule was invented because John G. Martin was attempting to find a way to get Americans to consume vodka. In some ways, substituting the vodka in a Moscow Mule for any other liquor could be viewed as scorning tradition. If it includes a different spirit, is it even a Moscow Mule? The simple truth is that everyone's tastes are different. In fact, many drinkers prefer gin to vodka. And, everyone needs a little variety when it comes to their cocktails from time to time.
Distilled with the sharp, pine tree taste of juniper berries, gin has its origins as a herbal medicine in the Middle Ages. Gin came to America by way of Britain, and remained the most popular liquor in the U.S. during the Martini-soaked first half of the 20th century until vodka outsold it in 1967. Even during Prohibition, people were desperate for the bathtub gin served up by speakeasies. More recently, big gin companies have been downplaying the Christmas tree taste of gin, making it more taste bud-friendly to those who prefer subtler tastes. But other, more original styles of gin still exist and there are hundreds of microdistilleries now popping up across the States.
In the U.S., gin is defined by its juniper-berry flavor, and cannot legally be less than 80 proof. Outside the U.S., however, there exist distinctions between gin, distilled gin, and London gin. The main difference is that London gin is much drier than the other versions, with no more than .1 grams of sugar per liter added.
Some of the best and most famous gins in the world are:
Tanqueray is distilled 4 times, comes in a signature green bottle, and is known for maintaining a simple recipe with only 4 botanicals—juniper, coriander, angelica, and liquorice.
Hendrick's is a brand of Scottish gin that includes essences of coriander, juniper, rose petal, cucumber and citrus.
Beefeater is crafted in a premium dry gin distillery in London.
Bombay Sapphire is sweeter and is known for having more natural botanicals than any other gin.
Gordon's dates back more than 200 years and pioneered the dry London gin taste.
How to Make a Moscow Mule with Gin
If you prefer the distinct flavor of gin to the fairly neutral taste of vodka, you can still make a Moscow Mule! Here's the best way to make a Moscow Mule with gin.
Choose a Gin—While any of the brands listed above will suffice—small batches from local distilleries will do as well—a very dry London gin might be best to stand up to the strong kick of ginger beer.
Combine ¾ ounce fresh lime juice with 1 ounce simple syrup and 6 sprigs of chopped mint and mix together.
Add in 1 ½ ounces of gin and shake well.
Strain your concoction into a highball glass or a copper mug.
Add ginger beer and soda water to taste.
Sip and enjoy!
The Gin Mule, as the Moscow Mule with gin is usually called, has a distinctly old-fashioned, English taste. The cooling taste of mint in this cocktail works well with gin and complements the heat of the ginger beer. The brisk bite of gin is great year-round—it cools in the heat of summer and is well suited to complement the spices and smells of the winter holiday season. While the gin mule can easily be enjoyed alone, it's also great to have with simple but hot dishes that will balance out its complex herby flavors and cooling aftertaste.
Before sticking with the same, tried-and-true recipe, mix it up a bit for your next party or night out. The Moscow Mule is an impressively versatile drink that can be modified to fit the bill for any occasion, meal, or whim.