Sidebar
Turkish Decor Items to Enhance the Beauty and Comfort of Your Home
In recent years as disposability has infiltrated every aspect of the culture there has developed a yearning for things with a more timeless quality: things that exist outside the narrow confines of the here and now, the fashionable or the merely 'new'. These things are the touchstones of our lives, the things that provide the emotional anchors we all need. This desire for lasting quality has led many to investigate Turkish crafts. Why Turkish? Because Turkey is one of the few remaining countries where the handmade object is still a prized commodity and where the skills necessary to create them are still being passed down from generation to generation.
Enhancing Your Decor with Charming Turkish Handicrafts
Whether you live in an historic Neo-classical house an old Victorian, a mid-century Modern, a bungalow, Mission style home or something aggressively contemporary and minimalist it will benefit from embracing Turkish handicraft elements either as accents or as major players in the overall decor.
Nimet porcelain elevates even the most beautiful kitchen to another level of breathtaking. Whether deployed as a colorful accent piece on the granite countertop or to serve your latest culinary creations to friends and family Nimet's exquisitely tasteful kitchen ware is the perfect complement to any kitchen environment. Outside the kitchen place fresh fruit in one of Nimet's hand painted bowls and place it on the sideboard in the hallway during the holiday season to add a sense of abundance. Place small colorful Nimet porcelain bowls strategically around the home filled with holiday treats to complete the feel.
The Turkish evil eye has gotten something of a bad rap over the centuries. The evil eye is not about sending negative energy toward the viewer but instead used to ward off evil intentions or energy others may wish to cast in your direction. In that sense it is a wholly positive symbol that telegraphs your desire to keep your home a safe, nurturing environment for all who enter. Evil eye tapestries bring this positive energy to your walls and provide a lovely counterpoint to more contemporary artwork or furnishings. Hang an evil eye amulet from a table lamp to add a rustic, traditional air to a room.
Turkish mosaic lamps will bring that warm, homey glow to any house and are particularly effective when used in a setting rich in natural materials like hardwood floors, Persian rugs, sumptuous hand-embroidered cushions and antique wood furnishings. Use them as an area light in the foyer, pendants over the island in the kitchen, table lamps next to the sofa or your favorite recliner or floor lamps to create a focal point. Turkish mosaic lamps are not just for historic homes however. Even the most openly modern home can benefit from using one of these amazing handmade lamps to add just the right amount of color to a space.
Now that your home is tripped out with the beauty and timeless handcrafted quality of Turkish decor items why not enjoy the warmth and charm while relaxing comfortably in a hand woven Turkish robe? Our 100% Turkish cotton terry shawl bathrobes are perfect for snuggling up beside the fire with a cup of hot chocolate on those cold December nights or enjoying a book by your favorite author by the light of the mosaic table lamp.
Turkish crafts are an indispensable interior design element for anyone who wants to take their decor to the next level of finish. Whether it's the stunning ceramic work emanating from the fair trade workshop of Nimet Varli, the handmade beauty of traditional mosaic lamps, the mystery and generative power of the evil eye or just the sheer luxury afforded by our plush Turkish terry shawl bathrobes you can't go wrong when you add handcrafted Turkish decor components to your interior.
Paykoc Imports is proud to be a showcase for the work of so many talented Turkish craftsmen and women. We believe in the regenerative power of these handmade objects and you will too once you experience them in person. Browse our website to view our extensive line of Turkish porcelain, textiles, art objects and more or stop by our Denver showroom to view them up close and personal.
For more information on how to add your mosaic lamp into your home check out our integration guide
SOME OF THE MOST CHARMING TRADITIONAL DECOR ITEMS FROM AROUND THE WORLD
One of the joys of traveling is browsing through local markets in far flung cities. From Turkish mosaic lamps to Moroccan rugs you never know what you'll find. But if you keep your eyes open you're bound to come up with decorative items that will help turn the decor in your own home into some pretty special. Not every decor item you'll find is going to deliver the aesthetic kick you're looking for (you'll probably want to take a pass on a 'horse selfie' blanket for instance), but treasures await the persistent and in this post we're going to look at some of the most charming traditional decor items from the four corners of the planet.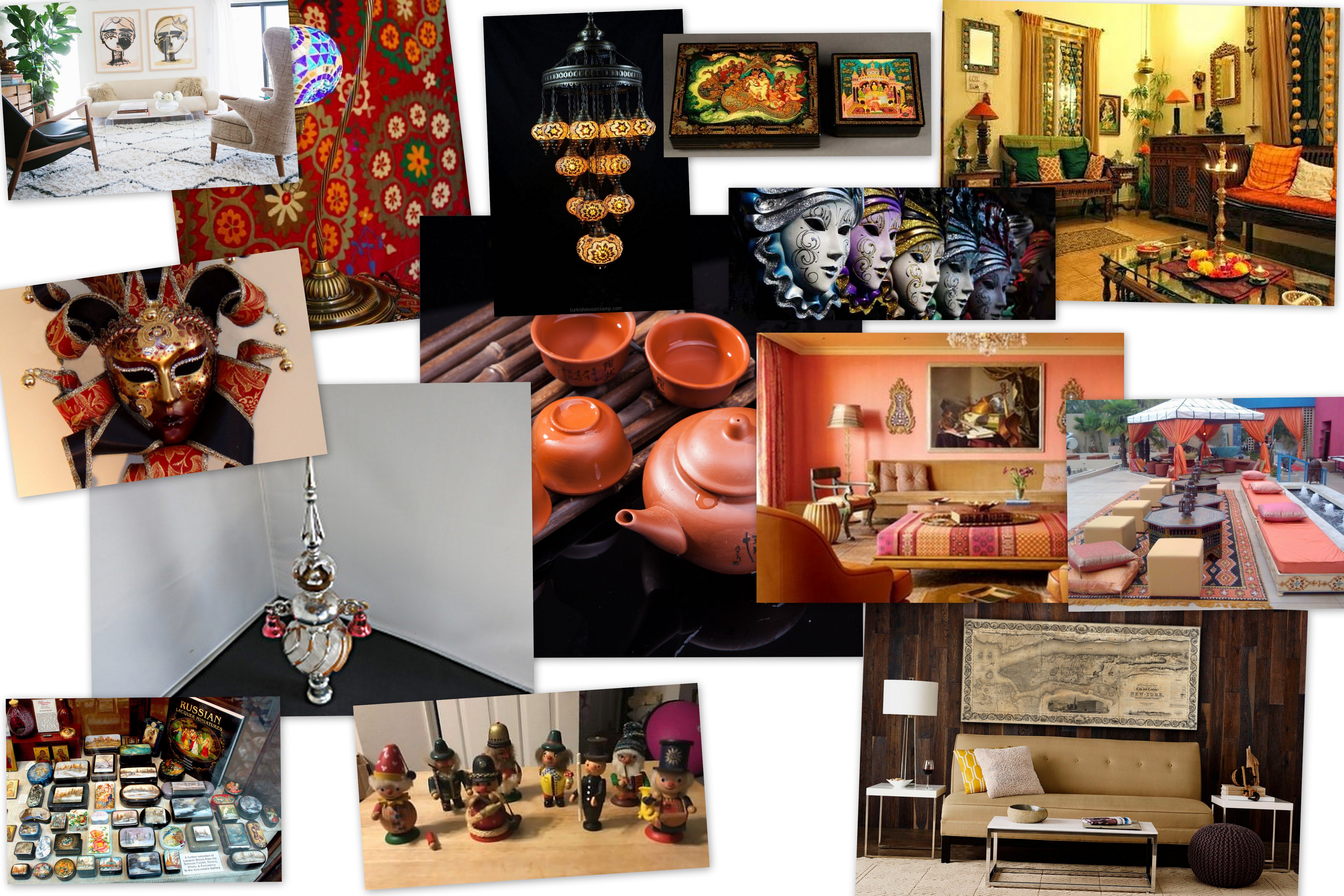 Mosaic Lamps Lamps and More Traditional Decor Items
Nothing livens up your own decor like unexpected and eclectic touches. Traveling provides myriad opportunities to pick up traditional decor items in other countries that will provide interesting and charming counterpoints to aspects of your own well-considered interior decoration scheme. Here are some traditional items to keep your eyes open for on your journeys.
Russian Lacquer Boxes - Russian artisans are well known for their matryoshka dolls but for centuries they've also produced incomparable lacquer boxes. They're typically constructed of multiple layers of paper mache that are pressed together before being oven dried and then hand-painted. In most cases the imagery on these charming, must have items depicts scenes out of traditional Russian legends and/or fairy tales. Caution is called for though when purchasing lacquer boxes in some of the big cities as knockoffs from China have been making the rounds. Be sure to check the bottom to see where the box was made before purchasing it
Moroccan Rugs - The artisans of Morocco have been producing handmade rugs for two centuries. It is thought the tradition sprang from a desire to put a local spin on exotic Turkish rugs that were being imported by the well to do in the 19th century. But whatever specific reason was behind the birth of rug making in Morocco they have definitely put their own unique stamp on it by infusing their creations with dynamic colors and geometric patterns of extreme complexity and sophistication. Moroccan rugs make compelling wall and door hangings and really ramp up the visual interest of a space.
Turkish Mosaic Lamps - Few people realize that Louis Comfort Tiffany did not come up with the idea of stained glass lampshades on his own. He actually drew direct inspiration from the mosaic lamps he saw in the markets of what was then Constantinople. Of course he added his own design touches that served to westernize the art form but without Turkish mosaic lamps there would be no Tiffany. You can find traditional, handmade Turkish lamps in markets throughout Asia Minor or you can purchase them directly through the Paykoc Imports secure website. They add atmosphere, mystery, color and a sense of timelessness to any decor
Venetian Carnevale Masks - Before there was Mardi Gras in New Orleans or Carnival in Rio there was Carnevale in Venice. This traditional festival dates back to at least the 12th century and was held before the beginning of Lent each year. It included lavish balls held by the aristocracy whose attendees often arrived festooned with elaborate handmade masks. The Venetian carnevale mask survives to this day and the better ones produced by the workshops of Venice are stunning creations that will become an instant talking point when you introduce them into your own home decor.
Fanciful City Maps - Fanciful city maps are something you can pick up in virtually any city on the planet. While some are nothing to write home about others are astonishing works of art that, when framed, add a worldly and lighthearted touch to your decor. If you search the out of the way markets of some European cities you can find antique city maps that will make not only an interesting addition to your decor but have real collectors value as well.
Christmas Ornaments - Nothing makes your holiday celebrations more memorable than a Christmas tree adorned with a variety of different ornaments. Some may be family heirlooms and some gifts you received over the years. Others may denote significant family events and still others may have just caught your eye due to their color and style. But if you really want to propel your Christmas tree into the next holiday dimension keep your eyes open for traditional Christmas ornaments when you travel, like hand carved German figurines or vintage beaded ornaments from Columbia.
Traditional Indian Poufs - The traditional Indian Pouf is a type of handmade ottoman that is emblazoned with colorful embroidery, beads, decorative stitching and more. Although they are sometimes used for sitting the vast majority of the time they are used to put your feet up and relax. If you're looking for a way to infuse a space with a bit of color and balance out some of your more rigidly composed decor items, traditional Indian Poufs and Turkish lamps are both ways of doing so.
Chinese Tea Pot - While the factories of China have become well known for pumping out everything from fake Russian lacquer boxes to fake Honda SUVs (true) there are still some things that Chinese artisans are well-known and celebrated for. One of them is the handmade porcelain tea set. The Chinese have been making porcelain for nearly 2,000 years and today they still make some of the best you'll find anywhere. A traditional porcelain Chinese tea set in your living or dining room elevates the entire decor and has the added benefit of being useful as well.
Adding any of these charming traditional decor items to your home is certain to result in a more worldly atmosphere yet one that is also more beautiful, more graceful, more versatile and more valuable. For one of the widest varieties of Turkish mosaic lamps you'll find anywhere visit the Paykoc online store.