Sidebar
What You Need to Know About Copper Decor and How To Use It To Enhance The Aesthetics Of Your Home
Deciding what interior decor to select for your home is by no means an easy task. In fact, a large portion of the general public would most probably say that they are hopeless when it comes to any kind of design work. This probably won't come as a huge surprise though, since if it were that easy to create the perfect interior there would be thousands of interior designers across the country out of work. Trends are something that are talked about a lot in relation to interior design and one trend that the team at Paykoc has noticed in recent years is an increasing number of homeowners choosing to use copper decor items to finish off the interior of their homes. Just why is copper decor so popular? That's something that we are going to discuss during the course of this blog post in addition to making a few suggestions with regards to how you could incorporate copper decor into the interior design of your home.
Putting Copper Mugs on Your Shelves...Really?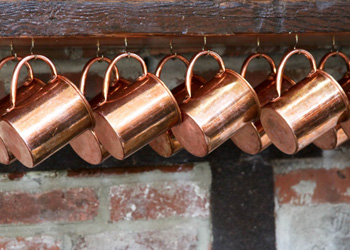 If you've never bought copper decor for your home before or even seen any in any one else's home (not likely, but could be possible), you might be wondering two things: 1) What is this copper decor you speak of?, and, 2) Why the hell would I want it in my home? Those are both very good questions and for any copper decor "newbies" out there we feel it's important that we address them both. Copper is a metal that has been used for thousands of years (it came into common use between 4,000 and 6,000 BC) and the vast majority of the tools and weapons that played such a vital role in the early human civilizations were produced from copper. "So interior copper decor is basically hanging a Roman sword on my wall?"Not quite. In the much more recent past copper was used to create many items that were regularly used in the average household, particularly in the kitchen. Go back just 50 years and copper cups, kettles and bowls were all commonplace. There were also a whole range of other copper items used around the house that have now become obsolete due to advances in technology and it's these once practical items that are now used purely for decoration. Now let's talk a bit about why an ever increasing number of people are decorating the interior of their homes with this stuff. Here's a few of the main reasons why:
Its Rich Color - The rich color of copper decor is something to behold and it's capable of complementing a wide range of different interior styles from rustic to modern to shabby chic; the possibilities are almost endless. It can also contrast well with the other elements in a room to create an attractive centerpiece that draws your attention as you enter the room.
It's Traditional - They say that everything comes back into fashion at some point, but the truth is that copper decor has never really gone out of fashion. It's a material that offers timeless appeal and has been used for both practical and aesthetic purposes since the very first civilizations. When decorating you home in copper decor you never have to worry whether it's going to be "in" next year or not.
It's Different - The simple fact that copper decor is different to the "standard stuff" you see all over the internet and in big box stores instantly gives it more appeal. Why buy what every other homeowner in the country is buying (you've probably seen your wall paper or the sofa you bought in a friend's house), when you can add something different to your home?
Not Sure How to Incorporate Copper Decor Into Your Home's Interior?
If you like how it looks from the pictures that you've seen but you're not quite sure how it will "fit in" at your property, not to worry as we're going to share a few of our favorite ideas with you.
Living Room - Copper bowls and pots (and solid copper mugs when they're in your hand and full to the top with Moscow Mule cocktail!) work great around a traditional style fireplace and can be used to store matches and fire-starter bricks. Copper pots can also be used on shelves and book cases to store items like DVDs, while one of our favorite uses in the living room is placing a candle inside a copper pot on the coffee table.
Dining Room - Similar to in the living room, many of our clients that we've spoken to purchased a copper pot to use as a centerpiece on their dining table. You could use it to hold a candle or alternatively create a stunning floral arrangement that looks even more natural in a copper pot.
Bathroom - Copper decor works well in many types of bathrooms and one of our favorite design ideas is to position a larger copper pot next to the bathtub and then fill it with either a selection of soap or use it to hold clean hand towels. If you don't have much floor space, most copper decor items can be wall mounted too.
Copper decor emits a warmth when placed in the interior of your home that you just don't get with other materials and the fact that it's available in a wide range of different shades (from ultra shiny to extremely dull) means it goes with just about anything. If you are looking for some ideas for your home, we have a wide range of different copper cups, bowls, molds, kettles, cauldrons, planters and hanging pots available on our site, so give it a browse!
WHAT YOU NEED TO KNOW ABOUT COPPER DECOR
While not often used for the more practical features of the standard home, copper is very much the "in thing" when it comes to interior decor in 2014. While stainless steel, ceramic and granite are used to create cabinets, sinks and work surfaces due to their impressive physical properties, copper is being used up and down the country to improve the aesthetic appeal of homes. But why is this? Why is the whole country goings copper mad? It's not just the "run-of-the-mill" items, such as copper planters and pans, that are being incorporated into the interiors of residences either; people are using copper to create their own, unique copper furnishings. Anyway, back to the question. Copper is trending right now due to a range of characteristics that we discussed in one of our earlier posts; it boasts a stunning, rich color that adds warmth to any room and can bring something "different" to the interior of your home.
That alone is more than enough for many people to snap up a nice bit of copper kitchen decor or something for their living room, but if you're holding out for a bit more information before you part with your money, you might find the facts and tips that we share in this post to be of some use.
A Few Things You Maybe Didn't Know About Copper Decor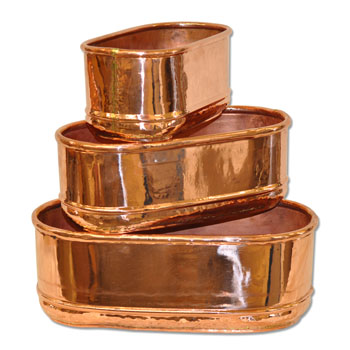 Not everyone is all that familiar with copper being used in the home, apart from for plumbing pipes, and certainly if you're among the younger generation you might not be aware of all of the characteristics of it. Here are a few of the most interesting:
Copper is Very Healthy - This is something that you can't say about all materials. However, with copper bacteria isn't an issue as it simply can't survive longer than a few short hours on it. By contrast, the same bacteria will likely survive for a few days on a stainless steel item. Make your home germ free!
Copper Ages - When you think of metals aging, you probably think of rust and corrosion, which won't make your home more appealing; it'll have the opposite effect. However, copper decor shouldn't suffer the same deterioration in condition, but it's appearance may well change. Copper decor items often take on different color tones as the material ages.
What to Know When Buying Country Home Decor Made from Copper
Too many people just rush into buying something without really knowing whether it's what they are really looking for. At Paykoc, we prefer to educate people before they purchase, as not only does this lower our return rate, but it increases the satisfaction of our clients. A few things we would advise you to think about before buying:
Make Sure It's Real Copper - Genuine copper decor items will stand the test of time, but much of what you are likely to come across on the internet and in cheap home furnishing stores is manufactured from a copper alloy. This is done because it makes the products much cheaper to produce, consequently boosting the vender's profit margin. However, the finish of these items is usually much poorer and the material can be prone to rusting.
Wax is Your Secret Weapon - Want to ensure that your new copper continues to beautify the interior of your home for many years to come? In that case you have to be prepared to wax any items that you purchase every so often, as this preserves the surface finish and helps to prevent reactions with any moisture in the air.
Refrain from Polishing - There are two things that you should never do with the copper pots and pans that are hanging from your kitchen or the copper planter pots that finish off your conservatory area perfectly; polish them or use abrasive cleaning products on them. Both of these things have the potential to seriously damage the surface of the copper and negatively affect the aesthetic impact that the decor item has.
If you feel as though one or more rooms in your home is missing that finishing touch, purchasing copper decor items could be just the solution you're looking for. Not only do they inject some color and life into the room, but they also create an environment that feels warm and cozy. Copper also works with almost any other material and color; it even works well if other types of metals are present in the room!