Sidebar
Wholesale Copper Mugs from Paykoc
Copper was the first metal besides gold to be put to use by man and was the first used to fabricate tools, cookware, cups and the like. The "Ice man" that emerged from an Alpine glacier in 1991 where he had been lying for more than 5,000 years was found to be carrying a perfectly preserved copper axe at his side. So humans and copper go way back. The fascination with copper and its many uses continues apace with copper cookware as popular as ever and copper mugs seeing an enormous surge of interest in the past decade. If you own a restaurant, tavern or gift shop wholesale copper mugs from Paykoc can provide an economic shot in the arm that few other accessories or collectables can equal.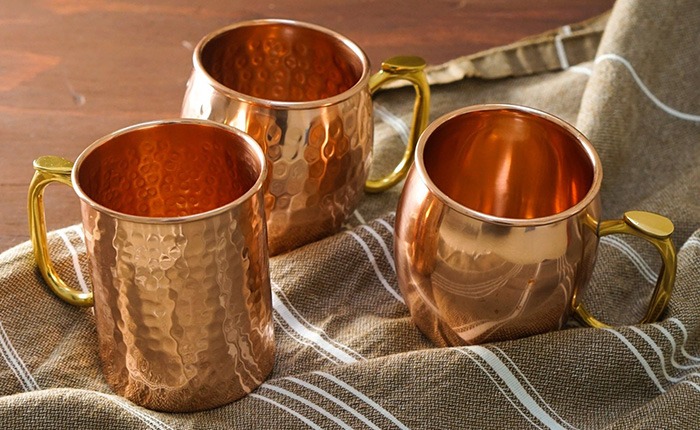 About Wholesale Copper Mugs from Paykoc
Paykoc Imports was one of the first online companies to offer copper Moscow Mule mugs to the American public and were key in raising the visibility of this once obscure cocktail and its gleaming copper vessel to its current lofty heights. But we recognized early on that there is more to copper mugs than simply playing host to Moscow Mules. Copper has played integral role in the American cultural landscape since the days when Paul Revere cast the first copper bells in America toward the end of the 18th century. Revere was also the first American to successfully roll copper into sheets that could be used for everything from the sheathing of warships to the creation of copper mugs.
Today, copper mugs can be found in restaurants of distinction from Boston to Los Angeles and in bars and taverns nationwide. Customized copper mugs also make outstanding gifts and mementos and wholesale copper mugs are an important inventory item in gift shops from sea to shining sea. Whether stunning kettle mugs, robust barrel mugs or shimmering hammered tankards copper mugs from Paykoc are far more than just a niche product. They're American as apple pie.
Copper Mugs' Widespread Appeal
The demand for copper cookware and copper mugs in particular has reached levels in recent years not seen since Colonial times. Copper utensils, whether they be frying pans or in this case copper mugs, speak to an aspect of human experience anchored in the intrinsic value of real, durable materials. This has become especially important in an age when so much of our experience has become virtual and exists only as an interaction between electronic impulses on a remote server and a PC or mobile phone screen. Copper by contrast is tangible. It's beautiful. It's timeless and timely.
People want to experience the tactile qualities of copper to remind themselves of their roots and to reconnect with the real world. Using copper mugs in your tavern or restaurant to serve Moscow Mules, ice tea, milk shakes or any of a dozen different beverages is likely to put your establishment on the map for all the right reasons. Likewise, offering beautiful copper mugs from Paykoc in your gift shop will help boost sales and interest.
What's the Story Behind the Moscow Mule and Its Ties to Copper Mugs?
The Moscow Mule is a drink that we all know and love; not just because it has an awesome name, but because it tastes great too! But where did it come from? And what's up with those copper mugs? Depending on who you speak to there are actually several different variations of the story of the Moscow Mule's "creation," but we'll get to that part a little bit later. The drink was prepared for the first time in 1941 (wayyy before my time!). To put that into perspective during that year Roosevelt was President, the Japanese famously attacked Pearl Harbor and the United States officially entered World War II. Around that time a Russian guy named Rudolph Kunett, who had emigrated to the US a few years earlier in 1920, owned the North American production rights to a brand of vodka called Smirnoff. While you'd probably call a person crazy nowadays if they hadn't heard of Smirnoff (it's now sold in over 130 different countries and is one of the world's leading brands of vodka), back then it wasn't doing quite so well, especially not in North America, and our friend Rudolph was really struggling to makes ends meet and could no longer afford to stump up the cash needed to pay for the required sales licenses. That's when he sold the rights to Smirnoff to John G. Martin.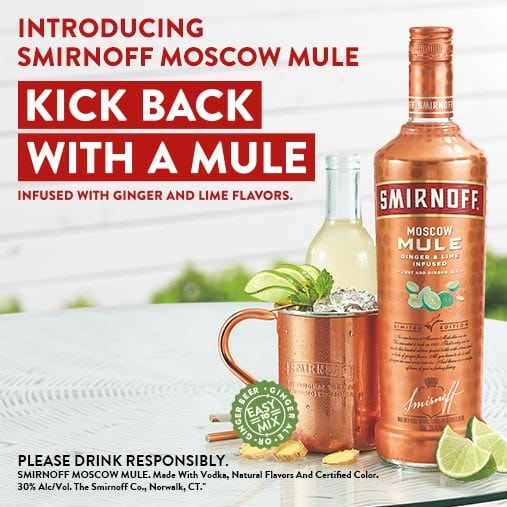 If you don't have a clue who John G. Martin is, he was the president of a company called Heublein Inc., which produced a range of alcoholic beverages throughout the 19th and 20th centuries, right up until it was dissolved in 1998. This move caused outrage amongst the board of directors as virtually no-one drank vodka in the US around that time; whiskey was the drink of choice. It was no surprise that after Heublein Inc. acquired the rights to Smirnoff it didn't exactly take-off, but that wasn't going to stop them. They used a number of smart marketing campaigns to piggyback onto whiskey's popularity at the time, re-branding Smirnoff vodka as "white whiskey" and using whiskey corks in the bottles. The result: Sales started to rise.
And What About the Moscow Mule?
A few years after John G. Martin bought the rights to Smirnoff (that happened in 1938), he linked up with Jack Morgan, who was the president of a company called Cock 'n' Bull Products. C & B Produced ginger beer, which wasn't selling very well at that time either, and it's claimed that one night the pair had met up and were sharing a few tales over some beverages (obviously alcoholic given the activities of their respective companies!), when Martin came up with the idea of mixing their products together and adding a squeeze of lemon for good measure. As soon as the idea was born, his vision just had to be realized and there was a mad rush for the ingredients. Minutes later they had everything needed laid out in front of them, so they went about putting together this new cocktail as quickly as they could. Moments later they were guzzling down the concoction for the first time. They liked it! They then made one, two, three more before naming it the Moscow Mule. And as they say, the rest is history!
Remember how I said there are variations of this story floating around? Well in 2007 there was an article published in the Wall Street Journal that stated that the head bartender at the Cock 'n' Bull tavern, Wes Price, said that it was in fact his idea to make the cocktail.
But Why Do You Drink It From a Copper Mug?
Another good question! You might not be aware, but copper has been used to create drinking "vessels" for thousands of years. Anyway, that is maybe a little irrelevant since it wasn't at all common to see solid copper mugs at the time, especially not with cocktails. So why were they used? Various sources seem to suggest that there was in fact a third person at the table that night; someone who was in the business of selling, you guessed it, copper mugs! This turned out to be a very clever marketing ploy as it really grabbed peoples' attention in the taverns, since it was something you just didn't usually see. It got people talking. They were curious as to what this new drink was. And once they had tried it, they kept coming back for more and sales skyrocketed. Nowadays, having a Moscow Mule without the copper mug is like eating Asian food without chopsticks; it's not an authentic experience!
Why Wholesale Copper Mugs Are a Great Idea For Your Gift Shop
When people enter your gift shop, whether it's in Faneuil Hall in Boston, on South Beach in Miami or Fisherman's Wharf in San Francisco they're looking for something to take home with them that's different than the average souvenir fare. Engraved mugs from Paykoc with the city, marketplace and a graphic representation of an historic locale provide just that. They'll always remember their visit to your city or town and have a keepsake they can hand down to their kids decades from now. Stocking plenty of custom engraved mugs in your gift shop will bring in the customers and send them home happy.
What Makes A Great Copper Mug?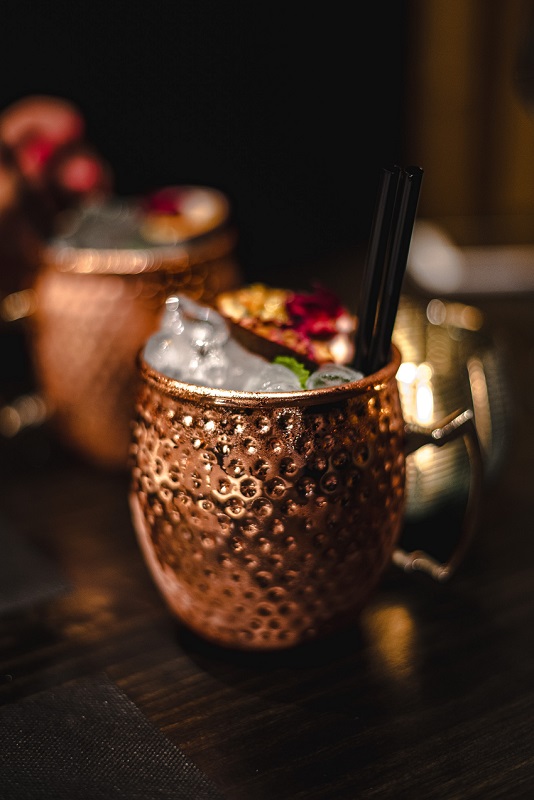 When you buy copper mugs wholesale from Paykoc you're not just getting an attractive vessel to serve to your dinner guests or bar patrons. You're investing in the future of your business by obtaining some of the highest quality copper mugs on the market. The copper mugs we offer are naturally antimicrobial, 100% copper, individually hand crafted and available either unlined or tin lined depending on your particular preference. The handles on our premium copper mugs are riveted in place and will be there helping your customers enjoy their beverage of choice for years to come.
Why Paykoc?
There are a number of companies offering to sell you copper mugs in bulk these days but only one that has more than 30 years of experience providing the highest quality copper mugs, porcelain, glassware, meerschaum pipes, handmade jewelry, Turkish mosaic lamps and more. That company is Paykoc Imports. We've built our reputation on the quality of the products we offer, on the reliability of our delivery network and on the unparalleled level of service we offer to each and every customer, whether they are buying a single engraved copper mug for a loved one or 200 wholesale copper mugs for their chain of restaurants.
Conclusion
If you are looking for a way to add a unique touch to your restaurant or tavern atmosphere or to offer clients of your gift shop a momento of their visit to your city or town (don't forget when you buy copper mugs in volume from Paykoc they can be engraved with whatever words or iconography you choose) we've got just what you're looking for: top-quality wholesale copper mugs from Paykoc Imports.