Sidebar
IMPORTANT THINGS TO KNOW and FREQUENTLY ASKED QUESTIONS ABOUT COPPER MUGS
Copper mugs from Paykoc Imports put the finishing touch on your Moscow Mule or any one of its ever-growing number of variants from the Mumbai Mule to the Yule Mule and everything in between. They're an item that was rescued from history by the popularity of a single cocktail and today they grace the kitchens, pantries and bar areas of innumerable homes from sea to shining sea. Perhaps you've thought about picking up some copper Moscow Mule mugs of your own but you've hesitated because you just don't have enough information. Well, we hear you. So, in the spirit of helping our customers make informed decisions we're going to use this post to highlight some of the important facts and answer many of your questions about copper Moscow Mule mugs.
Why Copper Mugs Have Taken the Cocktail World by Storm
Solid copper Moscow Mule mugs are much more than your ordinary cocktail glass. They're conversation starters, interior decoration and so much more. Here are 8 things about copper mugs you may not already know.
1) They're an investment - If you look after a copper mug it will last for generations. There are examples of copper drinking tankards that have survived for centuries. And the oldest tankard ever found (complete with solid copper handle and straps) is more than 2,000 years old. It's safe to say that the investment you make today will still have value when it comes time to pass your mugs down to your kids and grandkids.
2) They're analog - Being pre-modern technology a copper mug does not play well with those modern kitchen appliances designed to make things more convenient for you: namely the microwave oven and the dishwasher. The copper mug comes from a different era entirely. An era when clocks were a luxury and people did things by hand. So, never put your copper mug in a microwave. Ever. And when it comes to cleaning make sure you do so by hand.
3) They're easy to clean - Speaking of hand washing… There are actually any number of simple, quick and easy ways to clean your Moscow Mule mugs. Methods range from commercially available cleaners to tried and true DIY methods that have been passed down through the centuries. Be sure to take a look at our other posts dedicated to the subject. Like this one.
4) They're safe - This is maybe the biggest concern people have when they're contemplating buying a set of copper Moscow Mule mugs, and it's understandable. However, concerns about the safety of these extraordinary drinking vessels is unfounded. Copper has been used for centuries for eating, cooking and drinking and in our time has come under intense scientific scrutiny. No hazards have ever been found. So drink up!
5) They're versatile - We have a soft spot for the Moscow Mule and tend to promote copper mug use in tandem with our favorite cocktail. But the fact is that copper Moscow Mule mugs are incredibly versatile and can serve any number of purposes. They're perfect for serving any type of chilled drink from Mules to lemonade to smoothies and shakes. They make amazing interior decor accent pieces and we've even heard of some folks who buy them just to use them as decorative planters.
6) They're the only way to get the true Moscow Mule experience - Would you serve a martini in a beer mug? No? Well, how about serving up a Manhattan in a brandy snifter? We didn't think so. And what about serving a 1787 Chateau Lafite in a styrofoam cup? Definitely not, right? So too you should never serve a Moscow Mule in anything other than its intended vessel: a solid copper mug from Paykoc. To serve it in anything else would be just plain wrong.
COMMON QUESTIONS ABOUT COPPER MUGS: THE LIST
Now that we have covered the basics, here we will answer some of the most commonly asked questions about Copper Mugs.
Copper mugs are the ideal way to drink not only your favorite Moscow Mule, but any drink that you want served chilled, fresh, and in style. But why are copper mugs so essential for your restaurant, bar, or home? What special qualities do they possess that make them indispensible drinkware? Many of our customers have never given copper mugs as much as a second thought before coming to our site. They wonder: What sets copper mugs apart from mugs made out of other types of materials? Well, for customers old and new, we've compiled a list of common questions about copper mugs that are sure to enlighten you, clear up any misconceptions, and maybe even turn you into a copper mug convert! Read on to discover more about what makes Moscow Mule Mugs a unique and essential addition to your kitchen. Or make them a little more unique by getting your set customized with your name or great quote.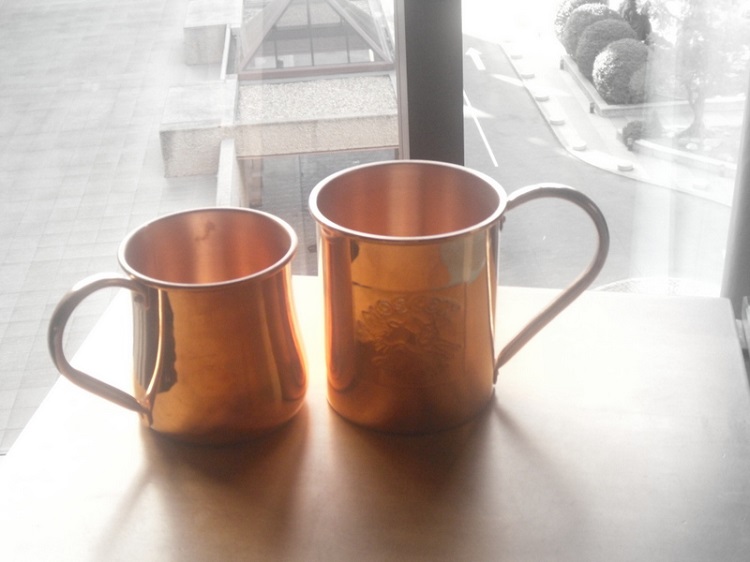 Frequently Asked Questions about Copper Mugs
How do copper mugs keep drinks cold?
Copper is particularly sensitive to temperature changes. It's a natural heat conductor, which is why people often use copper-bottom pots to quickly heat up food or boil water. But this means that it's also great at keeping drinks cool—when cold is applied to the surface of the copper mug, it spreads quickly and is kept cold by the copper. Unlike glass, copper ensures that the entire mug is cold even when only filled halfway. You won't need nearly as much ice to keep your drink cold even for those last few sips!
How do you clean and care for copper mugs?
Copper is easily tarnished so it's vital to clean your copper mug properly to keep it looking clean and new! Never put copper mugs in the dishwasher; dishwashers can chip the mugs' nickel linings. Instead, simply use soap and water to hand wash your mugs with a soft sponge and leave them out to air dry. Be sure to occasionally clean your copper mugs with a kitchen-grade copper cleaner to prevent tarnishing.
Are copper mugs safe to drink from?
We're constantly learning about more and more materials that we should never put in our bodies, like BPA that leaks from plastic water bottles and Tupperware, so it's important to question from what containers we choose to consume our beverages. These days, copper mugs are lined with nickel, lacquer, or stainless steel, which prevents drinkers from directly consuming the copper. As copper is a heavy metal, it can be dangerous if consumed in high quantities. As long as your copper mug is not severely scratched or worn and the lining is intact, copper will not leech into your beverage and it's perfectly safe to drink from.
Why are Moscow Mules always served in copper mugs?
It has become tradition to drink Moscow Mules out of copper mugs. The inventor of the Moscow Mule, John G. Martin, asked bartenders around the country to pose with copper mugs for photographs while trying to popularize his brand new beverage, leaving one copy behind for the bartender to display. Because of the copper mug's cold-retaining properties, the tradition stuck. Although most Moscow Mules should be served in copper mugs, copper mugs can also be used for other beverages you'd like to keep chilled such as cocktails, beers, and even ice water.
How do you make a Moscow Mule?
The Moscow Mule was first invented in 1941 by John G. Martin. Classically, it's comprised of 9 parts vodka, 1 part lime juice, and 24 parts ginger beer. The Moscow Mule is a highly popular drink due to its relative simplicity to make. First, you combine the vodka and ginger beer of your choice in a glass or copper mug filled with ice. Add the lime juice and then gently stir. It can be served with a lime wedge or even a ginger garnish for a bit more texture and spice.
What are some other Moscow Mule recipes?
Besides the traditional Moscow Mule, other variations on the original recipe have developed over the decades since this popular cocktail was originally introduced. As it continues to surge in popularity, new Moscow Mule recipes are available everywhere you look to accompany this refreshing drink's comeback:
Garden Mule — This summery substitute calls for 4 slices of cucumber, 16 blueberries, 6 mint leaves, 2 ounces vodka, 1 ounce lime juice, ½ cup ginger beer, and 1 piece candied ginger.
Apple Cider Moscow Mule — When evenings start to get chilly try this twist with 2 ounces ginger-flavored vodka, 2 ounces apple cider, the juice of 1 lime slice, ½ cup of ginger beer, and a sprinkle of cinnamon.
Strawberry Moscow Mule — This fruity drink is made with 1 cup frozen strawberries, 4 ounces vodka, 2 tablespoons lime juice, and 1 bottle ginger beer with a strawberry and lime slice garnish.
Copper mugs from Paykoc Imports are so much more than just mugs. They're an indelible part of our cultural heritage that's found new life in the digital age, when so many people are searching for objects with intangible qualities plastics and glass just can't provide. They'll enhance your interior decor, provide another heirloom to pass down to succeeding generations, be a constant reminder of the value of natural materials and quality craftsmanship and, oh yeah, they're also great for serving Moscow Mules. Remember copper lasts forever, getting your mug engraved will ensure that you never forget a special person or memory